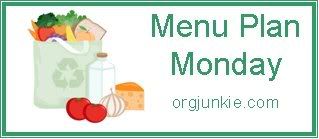 Monday- Sloppy Joes, Rice, Carrots
Tuesday- Chicken Fajitas, salad
Wednesday-
Dana's Taco Lasagna
(Can also be made vegetarian by subbing lentils for ground beef/turkey)
Thursday-
Lemon Herb Chicken Ring
Rice, Green Beans
Friday- Leftovers
Saturday lunch- Hot dogs
Saturday dinner- DATE NIGHT! KIDS AT NANA'S!
Next week will be challenging. Myself and the kids (including the dog!) will be staying at my Mom's house so we can all attend VBS at our church. Justin will be here by himself. I don't really want him eating out every night. I plan on freezing half of the taco lasagna because it makes sooo much. I also stocked up on Hebrew National Hot Dogs to do a rebate from Publix (Buy $20 worth of Cogna foods and get a $25 Home Depot giftcard! We need fertilizer and ant killer! )
Any ideas of foods I can make ahead for him?