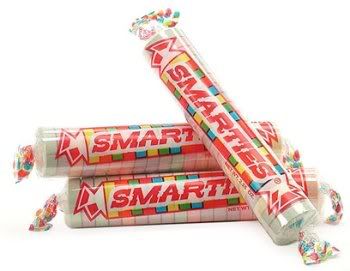 I read somewhere (it was another D-blogger but can't remember who!!) that Smarties were made with Dextrose... same as glucose tablets. However Smarties are much YUMMIER AND CHEAPER! We have been using Smarties for weeks now as a reward for Gabe going potty. (Ha... maybe I should clarify... he gets one smartie, not one roll!) So yesterday we went hiking at a really cool park here in town. I looked at my Dexcom and sure enough I was on a downward trend.
2 rolls of smarties = 50 calories and 13g carbs and a happy Windy who doesn't have to have her family time interrupted by "D".
My sugar went back into range wicked fast! I'm hooked on Smarties for my hypo's now. My dentist might not like this though...